On November 9, 2023, MCA released the LLP (Significant Beneficial Owners) Rules, 2023
("SBO Rules"), which mandate the LLPs to identify and provide MCA with the necessary
information about Significant Beneficial Owner(s) ("SBO Rules").
A. NON-APPLICABILITY
The SBO Rules shall not apply to:

B. IMPORTANT PROVISIONS AND DEFINITIONS
Holding of indirect interest in an LLP
SBO, as defined by Rule 3(k), means an individual who possess one or more of the
following rights or entitlements in the reporting LLP, acting alone or through one
or more persons:

Has right to exercise or actually exercises, significant influence or control, in any way other than by direct holdings alone or holds, indirectly or together with any direct holdings of, at least 10% of the:

An individual shall be considered to hold a right or entitlement indirectly in the
reporting LLP, if he satisfies any of the following criteria: –
where the partner of the reporting LLP is a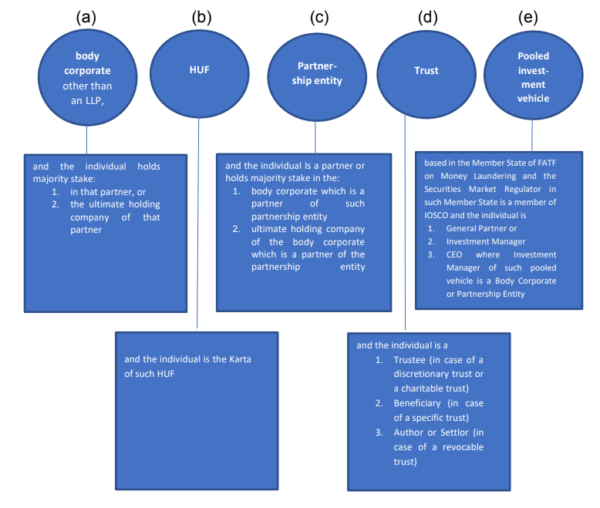 Holding of Direct Interest in LLP
An individual shall not be considered an SBO if he/she directly holds any rights or entitlements in following manner:

Contribution representing such right or entitlement, is held in the name of the individual; or
The individual has declared to the reporting LLP that he/she possess or acquire a beneficial interest in the contribution of the reporting LLP in accordance with Rule 228(2) of the LLP Rules, 2009.
DUTIES OF THE REPORTING LLP
Identification of SBO, if any, and cause such individual to make a Declaration in Form LLP BEN-1.
 Notice to identified SBO in Form LLP BEN-4, seeking prescribed information. Information must be provided by the SBO within 90 days of commencement of the SBO Rules.
Filing of SBO return in Form LLP BEN-2 with Registrar of Companies within 30 days of receipt of the declaration from the SBO.
Maintenance of Register of SBO in Form LLP BEN-3.
To download the pdf file of the above post, please click on the download button below.
About Our Regulatory Advisory & Support Services
DPNC Global LLP is a full service consulting firm providing multi-disciplinary services to clients ranging from MNCs, Indian Corporates from across industries to Family Offices and UHNIs, both in and outside India.
Our Regulatory Advisory & Support Services team consistently works towards providing simple and practical solutions to complex issues. Any entity operating in India would need to navigate the dynamic eco system and endeavor to ensure due regulatory compliance with the wide spectrum of applicable legislations. We advise & assist clients to be fully compliant with a wide spectrum of applicable regulations including Company Law, Limited Liability Partnerships (LLP) Act, SEBI Regulations, Non-Banking Financial Companies (NBFCs) Law etc. To know more about our services, visit https://dpncglobal.com/regulatory-advisory-support/
DISCLAIMER: –
The summary information herein is based on notification dated 09.11.2023 issued by MCA. While the information is believed to be accurate, we make no representations or warranties, express or implied, as to the accuracy or completeness of it. Readers should conduct and rely upon their own examination and analysis and are advised to seek their own professional advice. This note is not an offer, advice or solicitation. We accept no responsibility for any errors it may contain, whether caused by negligence or otherwise or for any loss, howsoever caused or sustained, by the person who relies upon it.